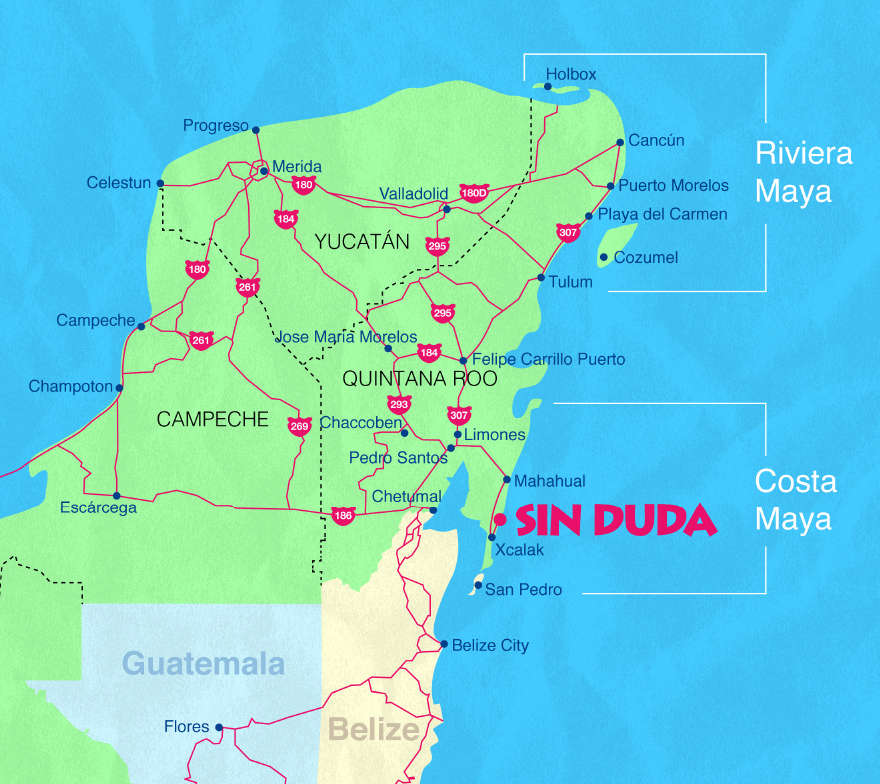 COME TO SIN DUDA VILLAS
Xcalak, Quintana Roo
The Mexican Caribbean on the Costa Maya
5 hours from Cancun • 5 hours from Merida • 3 hours from Chetumal
DIRECTIONS TO SIN DUDA VILLAS FROM CANCUN
Cancun to Sin Duda Villas
Drive South on Hwy 307. Cancun to Playa del Carmen to Tulum Puebla is a 4-lane corridor with access to beach resorts.
Tulum to Felipe Carrillo Puerto
One hour on 3-lane road, Hwy 307.
Felipe Carrillo Puerto
This is the junction of Hwy 184 (from Merida) and Hwy 307 (from Cancun). We recommend that you take the new bypass toll road (CUOTA) around the town of Felipe Carrillo Puerto. Driving south, the sign will read "CHETUMAL CUOTA". Driving north the sign will read "CANCUN CUOTA". This will save you about 25 minutes of driving through a town with lots of traffic and narrow streets. The cost for the new toll road is 24 pesos ($1.25 USD).
Felipe Carrillo Puerto to Limones
Continue for 45 minutes South on Hwy 307, to the village of Limones. Just beyond the village, at the last tope, are excellent fruit and honey stands.
Cafetal Turn-Off
Distance from Limones to Cafetal is 2 km. At Cafetal, there is a wide left-hand turn to the road that heads East, towards the sea and Mahahual, the cruise ship port of the Costa Maya.
Carretera Cafetal a Mahahual
A wide highway with wide shoulders. The Xcalak road is at km 51. It is a right hand turn and the road heads South. Watch for the homemade signs on the corner. Just beyond km 51 and the Xcalak Road, there is a Pemex Gas Station. We recommend you top up your gas, and then go back to the Xcalak Road and turn left towards Xcalak. Note: There is no Pemex Station in Xcalak.
Carretera Mahahual a Xcalak
This 61 km highway is an excellent road, with some curves. Enjoy the encroaching jungle. Drive carefully and watch for wildlife.
At Xcalak Village
Stop at the T Junction and turn left. Drive 2 kilometers into Xcalak Village, and drive through the village all the way to the ocean. Turn left (North) at the ocean. You are now on the original Beach Road. Keep the ocean on your right, go past the town dock and lighthouse. Just beyond the Military base, turn left, then take your first right (you'll see our sign). Go over the bridge and drive North for 8 km (5 miles).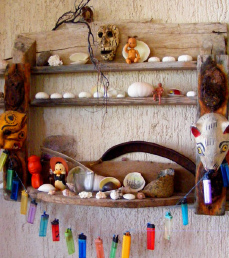 Welcome to Sin Duda Villas!
DRIVING FROM MERIDA OR CHETUMAL?
Just ask us to email you Travel Instructions from these 2 cities. We are happy to help.